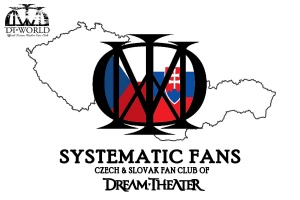 SYSTEMATIC FANS ~ Czech & Slovak Fan Club of DREAM THEATER (abbrev. SF) is voluntary, apolitical hobby club that gathers Czech and Slovak fans of the best band in the universe, with no age restrictions, sex or political affiliation. Club cooperates with Dream Theater (DT) to promote and support band's professional activities.
SF FanClub is a platform where members and registered users communicate, share their information, experiences, pictures…
It is forbidden to use the platform to offend the band or other members and users. It is also forbidden to use comments with sexual connotation.
Users must not act as web or fanclub administrators. All actions that are against the laws of Czech and Slovak republic are also forbidden.
I. Fan Club Members
Art. 1
SF FanClub membership is voluntary and open to every DT fan provided he agrees with these Rules. Should the rules be violated, administrator reserves the right to delete offending comments. In case of repated violation of the Rules offender's account will be banned and member will be excluded.
Art. 2
New members to the SF FanClub from the Czech &Slovak Republic are admitted by decision of the Leading Team based on signed application received by mail/e-mail. Membership is valid from the day of acceptance by the Leading Team. Member will be be notified by email.
Art. 3
Members are entitled to:
– participate on SF FanClub events
– be informed about DT activities
– have access to 'members only' part of SF website
– suggest ideas to improve the function of SF
– actively participate on SF FanClub development and support
Art. 4
Members are required to:
– act as not to harm the name and image of DT and SF FanClub
– respect and keep the Rules SF
Art. 5
Membership is cancelled when:
– member asks for cancellation
– member violates Rules of SF Fanclub
Art. 6
All members are registered in FanClub's internal database. Personal data cannot be shared without prior consent of the owner and are used for registration purposes only.
II. Organizational structure of SF FanClub
Art. 7
SF FanClub Board Members:
Vilma Pařenicová | Prague, Czech Republic
Martin Driensky | Bratislava, Slovakia
Team can be expanded with the members who, through their hard work and dedication, earn the trust.
Art. 8
Board members
– represent SF FanClub in negotiations with DT, their agency and their official webmaster.
– Accept new members and cancel memberships
Art. 9
The Board is obliged to:
– inform members about the actions, events of the DT and SF FanClub via email, print or
website
– receive and discuss suggestions and complaints of the SF FanClub members
– cooperate with DT, their agents and official webmaster
III. Others
Art. 10
The board is solely responsible for correct and up-to-date register of SF FanClub members.
The rights of Dream Theater band:
DT and their agents direct the cooperation with the FanClub and provide FanClub with the information about band's professional activities.
These Rules can be amended to reflect actual situation but the changes must not affect the function, goal and the spirit of the SF FanClub.
Registration form (editable PDF send to us to our Contacts  emails in section "Contacts")